›
home sweet home
›
Best Dumb Speakers. Sonos vs. Bose vs. Ultimate Ears (2022)
Advertiser Disclosure
Best Dumb Speakers. Sonos vs. Bose vs. Ultimate Ears (2022)

What is the best smart speaker for your privacy? We reviewed Bose, Sonos, and Ultimate Ears to help you decide.
Many or all of the products featured here are from our partners who compensate us. This may influence which products we write about and where and how the product appears on a page. However, this does not influence our evaluations. Our opinions are our own.
Here's how we make money.
Dumb isn't something someone usually thinks of as a positive trait, but in the era of the Internet of Things, where privacy is constantly being eroded, it's nice to be able to listen to the Beetles without having to worry afterwards if your speaker is listening in on everything you say. During these periods of prolonged indoor isolation and quarantining, having a high quality speaker setup that can connect to every room in your house, so that you never have to miss your favorite drop or lyric, is almost

heavenly.

Think about the last time when you were at a restaurant and when you went to the bathroom, your ears were greeted with the sweet sound of the music that also was playing in the lounge, lobby, and possibly dining area. Having such a setup for yourself wouldn't have seemed realistic before the creation of WiFi speakers.

If you're tired of dealing with headphones, but worried about technology eavesdropping on you, and you're ready to take your music and home to the next level - you've come to the right place.

So which smart speaker should you choose? Read the detailed review or see our side-by side comparison below:
Sonos vs. Bose vs. Ultimate Ears
Comparison Table
best smart speaker for privacy?

Price

Sonos

💰💰💰 - 💰💰💰💰

Bose

💰💰💰 - 💰💰💰💰

Ultimate Ears

💰💰 - 💰💰💰💰

Biggest Selling Point

Sonos

Easy-to-use app with seamless pairing and isolating of speakers

Bose

Aux port and bluetooth capability with easy-to-use app and high quality sound

Ultimate Ears

Highly durability and outdoor friendly with options at affordable and luxury levels

Bluetooth Capability

Sonos

❌

Bose

✅

Ultimate Ears

✅

Water Resistant

Sonos

❌

Bose

❌

Ultimate Ears

✅

Humidity Resistant

Sonos

✅

Bose

❌

Ultimate Ears

✅

Durability

Sonos

Average

Bose

Below Average

Ultimate Ears

Superb

Mic Mute Functionality

Sonos

✅

Bose

✅

Ultimate Ears

✅

Aux Port

Sonos

❌

Bose

✅

Ultimate Ears

❌

Voice Assistant Options

Sonos

Alexa and Google Assistant

Bose

Alexa and Google Assistant

Ultimate Ears

Alexa

Biggest Con

Sonos

Lack of support for legacy devices

Bose

Lack of features

Ultimate Ears

Heavily geared for outdoor / portable use

Website

Sonos
Bose
Ultimate Ears
The Best Smart Speaker for Privacy?
Sonos, Bose and Ultimate Ear sell smart speakers that have great sound quality, are sleek, and can be optionally muted to keep big brother at bay. Whether you're wanting a household smart speaker setup, or a versatile smart speaker that can be used indoors or outdoors, you won't be disappointed with any of these premium speakers. If you're ready to experience next-level sound and cutting-edge innovation, we recommended the following models:
Once you try one of these premium speakers, there simply will be no going back to using cheap alternatives, and depending on what you plan to use your smart speaker for, one of the above models should be everything you need and more. If you're still struggling to make a decision, see our detailed reviews below to help you better understand each brand's personality and how they fare against the competition.
Best Dumb, Smart Speakers
Currently about a quarter of Americans own a smart speaker. Yet over half of smart speaker owners are concerned about how much personal data their device collects: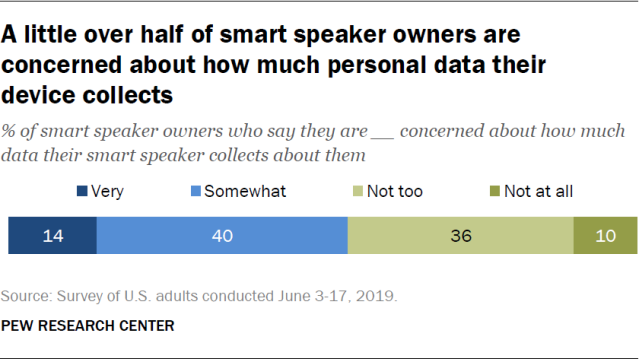 In addition to generally being pricier than all but a few luxury brands of headphones (Beats, AirPods, etc.), one of the primary concerns that keeps most people from upgrading their home sound system with smart speakers is their concern for privacy. However, companies like Sonos, Bose, and Ultimate Ear have recognized this growing concern and have added mic muting functionality to their products. All of our products here come with this functionality, so you can jam to your heart's content without worrying about who might be listening. If you're absolutely against your speaker having a microphone, then there are some mic-less version alternatives (Sonos One SL).
Our Dumb, Smart Speaker Reviews
Following countless hours of research, Sonos One, Bose Home 300, and Ultimate Ear MEGABLAST made our list. Each speaker shines in its own way, but is versatile enough to use just about anywhere.
Sonos One speakers are great for indoor home setups, sound amazing, and offer great features and functionality through their app.
Bose speakers are a flexible, alternative speaker to the Sonos One for an at-home setup, and they also offer high-end luxury speaker models (Bose Home 500) that can make fantastic standalone or centerpiece speakers.
Last but not least, Elephant Ear MEGABLAST speakers are the most durable, outdoor friendly smart speakers on the market. These speakers are waterproof and even float, ready to go for any adventure.
Sonos One Review: Exceptional Indoor Speakers
Out of our three brands, Sonos is the uncontested leader in the smart speaker scene. This company is relatively new, but they have been leaders in the space for a couple of years at this point and honed their craft. Sonos speakers are sleek, and come in a variety of colors (red, yellow, pink, green, and gray to name only a few) with black and white being their most popular.
Sonos One Setup
If having a no-hassle, housewide sound system sounds appealing, then Sonos speakers were made for you.
To set up the speakers you will have to download the Sonos app (it can be found in the Apple app store or the Google Play store), once done you will then be able to connect to the speaker once it's hooked up to WiFi and charged.

Once you initially connect the speakers to a power source, it will take around a minute for the speakers to be ready to connect. Once they're fully powered on, a green flashing light indicator will let you know you're good to go.

If this is your first time accessing the app, then you will need to create an account.

Logging into the app for the first time will prompt you with instructions for setting started and setting up your speaker. If you need to connect this to an existing system, you can do so by going to the settings.
After you follow these steps, you should be ready to rock-n-roll! If you have any issues, you can see the instruction manual that comes with all Sonos products to figure out exact steps. The below video will show you how to setup Alexa as a voice assistant, for Google Assistant users these steps may slightly vary:
Sonos One Features
All Sonos speakers are controlled via the Sonos app once connected to WiFi, and allow for complete control of all, one, or even groups of Sonos speakers. With the app, if you own multiple speakers then can define rooms or custom groupings easily. A Sonos One speaker can even be paired with another Sonos One speaker to be used as a tv or computer speaker setup. Having had the privilege of using Sonos speakers at a previous job, you can have different conference rooms each jamming out to their own select beats, with no latency or interference. This ability to define groups of speakers and have complete control over which speakers are playing is the core feature of the Sonos brand products that truly set them apart from the competition.
If you're okay with the idea of using an AI assistant, then Sonos Ones are very technology agnostic, and work with both Alexa and Google Assistant. As already mentioned, these speakers also come with a mic-muting button so that you can rest at ease when you aren't using it. One thing to note with Sonos Ones is that they aren't bluetooth capable, in order to be able to use these speakers, WiFi is required. However, recently Sonos rolled out an update to equip their speakers with BLE (Bluetooth Low Energy) notification capabilities for phones, which can be very helpful in tracking the speaker's battery if it's unplugged.
In terms of music apps, Sonos supports any and everything under the sun. As an example, I myself am a YouTube Music user, which sometimes doesn't have the greatest of support with products, but Sonos does support it! If you have any doubts, you can always check their streaming services support page, though if you decide to chance it, it's a very safe bet they will have app support for your preferred music streaming service. Sonos One and One SL are also radio ready over the internet via TuneIn! So you can play radio from all around the world on your speaker.
Sonos One Sound Quality
Sonos Ones sound truly exceptional for such small and elegant speakers, and offer you the ability to tweak the bass and treble of the speakers for those with an ear for detail. These little speakers can pack quite a punch, and you will not be disappointed if you have concerns over volume. When paired with multiple speakers, the sound quality truly shines. These bad boys are equipped to sync perfectly together and delegate drops, pitches, and beats to offer amazing 2.1 or even 5.1 surround sound.
Sonos One Price
Sonos One is priced at $199, and the Sono One SL is priced at $179.
Sonos One Verdict
If you're ready to buy into the Sonos ecosystem, then the Sono Ones are the ideal place to start. The Sonos Ones, and the accompanying Sonos line of products (Arch, Sub, Move, and Five), make for the perfect home speaker system.
Bose Home 300 Review: Outstanding Versatile Speakers
Of our selected brands, Bose is the oldest and most established. Bose makes bluetooth and WiFi/bluetooth capable speakers, and have speakers options for any and all occasions. Because their smart speaker line is both WiFi and bluetooth capable, this gives these speakers great flexibility and it is one of their most understated features. The speakers look similar to Sonos Ones, but with the main difference being the button controls on top of the speaker. The Bose Home 300 speakers come in both black and white/silver.
Bose Home 300 Setup
Setting up Bose speakers is fairly simple, below we've outlined the following steps:
Download the Bose Music app, it can be found in the Apple app store or the Google Play store.

Plugin the Bose speaker and be sure it's charging.

Create an account or login with an existing account or Facebook.

Once logged in, you will need to add your speaker by clicking the speaker button in the top left corner of the screen, this will take you to the "My Bose" page where you can add and group speakers.
Following these instructions will get you all setup. If you have any issues, we recommend checking out the below video for help or cracking open the setup instructions that come with all Bose speakers. If that doesn't cut it, then the worldwide.Bose.com/Support page contains further instructions.
Bose Home 300 Features
In addition to bluetooth support, the Bose Home speaker 300 comes with an AUX port and the ability to preset up to 6 playlist or music channels for breaking into the groove at rapid fire pace.
Bose speakers also boast the ability to group and pair speakers together to create unique surround sound experiences, although setting up rooms and some of the more advanced pairing options that are offered by Sonos aren't possible here.
If you're okay with the idea of using an AI assistant, then Bose Home Speaker 300s are also very technology agnostic, and work with both Alexa and Google Assistant. As already mentioned, these speakers also come with a mic-muting button so that you can rest at ease when you aren't using it.
In terms of music apps, Bose has support for most of the various music streaming services. Unfortunately when it comes to more of the nitty gritty services (like YouTube Music), they don't have readily available support. Thankfully Bose Home 300 and Bose Home 500 are both radio ready over the internet via TuneIn! So you can play radio from all around the world on your speaker. Overall Bose has notably less features out of the box than Sonos, but what they lack in the features category, they make up for with their flexibility and ease of use touch controls.
Bose Home 300 Sound Quality
Bose speakers have great sound quality, with the ability to tweak the treble and bass for those with keen ears. Like others here, these speakers can pack a punch. The general consensus is that the Bose Home 300 speakers are not as strong in the sound department as some competitors, however for the average listener we doubt you will notice or be disappointed. For the audiophiles out there, we recommend going with the Bose Home 500 for better performance. As with most smart speakers, for the best sound experience we recommend pairing these speakers with a second or more to get the fully immersive surround sound experience.
Bose Home 300 Price
The Bose Home 300 is priced at $199.95 and the Bose Home 500 is priced at $299.95.
Bose Home 300 Verdict
If flexibility and legacy device support is more your speed, then the Bose smart speaker line is the perfect choice. The Bose Home 300, and the Bose smart speaker line (Wave SoundTouch System, Soundbar 700, Portable Smart Speaker, Bose Home Speaker 500 - to only name a few), make for a great at home speaker setup.
Elephant Ear MEGABLAST Review: Fantastic Outdoor Speakers
Elephant Ear is the young blood of our product comparison group, and they proudly show it as they play to the beat of their own drum! Elephant Ear speakers are fantastic outdoor speakers, bar none. While they're smart speakers, they almost feel as if they're in a league of their own. The Elephant Ear BLAST and MEGABLAST have their own Vibrant style that is very different from the more sleek finish of the Sono and Bose brand of smart speakers. As one would almost expect, these speakers come with a few colorful combinations, with Black (Graphite), White/Gray, Crimson, and Blue being the available colors.
MEGABLAST Setup
Setting up an Ultimate Ear MEGABLAST is fairly simple. If you happen to have any issues, then don't worry, we got your back!
Press and hold the power button located at the top of the speaker, if it doesn't work, make sure it is charged or plugged in.

Install the Ultimate Ears app, it can be found on both the Apple app store and on the Google play store.

Log into the WiFi on the Ultimate Ears app.Once logged in, you will need to install updates.

If you want to connect via bluetooth, hold the power button until you hear a tone, then look for the speaker on your phone.
If you have any questions on how to setup WiFi, we recommend checking out the instructions that come with the MEGABLAST. If all else fails, then feel free to visit the MEGABLAST support page.
Below is a great video on setting up your MEGABLASTthat follows these steps and shows how to setup Amazon Alexa.
MEGABLAST Features
What makes the MEGABLAST truly unique, is that it is the only WiFi speaker we know of that is waterproof and floats.These speakers are made to bounce if dropped, these speakers are tough and able to take quite a beating. The speakers are dust and humidity proof as well. If that weren't enough, they are both bluetooth and WiFi capable, for extra flexibility. Since these speakers are more so equipped for the outdoors, they come with a 16 hour battery life, and they can be charged wirelessly if you buy the wireless POWER UP base charger. One of the nice, subtle features of these speakers is that they come with a D-ring that can be attached at the base of the speaker, for carrying them on the go.
If you're alright with an AI Assistant, then these speakers come ready with Amazon Alexa capabilities. If this is a problem, then as already mentioned, these speakers also come with mic-muting functionality so that you can rest at ease when you aren't using it.
When it comes to music streaming services, the MEGABLAST has some support, though this is perhaps it's biggest Achilles' heel. Currently Amazon Music, Spotify, and Deezer and a few others are supported for WiFi streaming, for most everything else, you will have to use bluetooth. When it comes to pairing, the MEGABLAST can be paired with other MEGABLASTs and BLAST speakers, but it doesn't provide support for other speakers in the Ultimate Ear speaker family.
Where these speakers shine is for outdoor party settings, and they don't disappoint as they're radio ready over the internet via TuneIn! So you can play radio from all around the world on your speaker.
MEGABLAST Sound Quality
In the sound department, the MEGABLAST goes for sound and bass, as the name might imply. These speakers can reach high volumes and fill a room, and the bass can be as deep as your heart desires. If the Sonos One or Bose Home 300 raised concerns over their max volume, then this is the solution. In terms of overall sound quality, these speakers are definitely not as renowned as the Sono One or the Bose Home 300, but they performed their job well for the outdoor party listener.
MEGABLAST Price
The MEGABLAST is $249.99, and the BLAST is $179.99.
MEGABLAST Verdict
If outdoor fun in the summer sun is your priority, then the MEGABLAST is perfect for the occasion. If you're not wanting to drop $250, then the BLAST offers a slightly smaller, more affordable alternative.
Smart Speaker Customer Reviews
Deciding which smarter speaker to buy, and in some cases, what ecosystem you want to roll with for your at home setup can be a tough decision. Therefore we have gathered the most insightful customer feedback we could find on the web to help you with your decision.
Sonos One Customer Reviews
Review from Christian: So far I can't say enough good things about the Sonos ecosystem. I now own several of these throughout my house and the ability to have them sync up and control them either individually or as a group with Spotify or Apple Music (or others…) is a game changer. It's the kind of thing you didn't know you wanted until you had it. Coming from bluetooth speakers that you have to pair and they're always cutting out if you walk too far with your phone, these are such a pleasure to use. The sound quality is out of this world. I'm not sure I've ever turned them all the way up because I'd probably blow out a window. Highly recommended.
Review from Adithya: Great device overall. Setup was easy and took only five minutes total. Sonos comes with a sound-adjusting feature where you walk around the room with your phone while it's playing a sound and it tunes its speakers to better fit the room it's in. Genuine difference in quality between before and after tuning, and true audiophiles will love how this speaker sounds. Limited functionality for the alexa commands because you can't get it to do certain things like specific routines without having another echo device, but if you already have some sort of echo device, this is a no brainer. Pairs amazingly with my Apple TV over airplay, and with all my smart bulbs/switches. 10/10 would recommend. Sonos is a fantastic company.
Bose Home 300 Customer Reviews
Review from Ryan: I've had it for a month and a half now and it's great sound. I'm a Bose fanatic but I like this for the compact size, great sound and Alexa integration. I got it on sale which makes it that much more enjoyable. 👍🏼
Review from Loni: This speaker packs a PUNCH! It is small in size, which is perfect for me as it saves space. But - the size is nothing in comparison to how BIG the bass is and how loud the sound is! The music is crisp & floats throughout our entire house on the loudest level.
You are able to download the app & connect to your voice assistant in your smart home, with that built right in. It's helpful for me when I am cooking and want to start or stop music. If you don't have access to WiFi, you're still able to connect to Bluetooth and play music! This speaker is the epitome of luxury & an imperative addition to your smart home family!
Elephant Ear MEGABLAST Customer Reviews
Review from Phil: I've been looking for a way to get solid sound from the wireless world - particularly poolside. I have a Bose SoundTouch which I love but is wired and not waterproof.
I bought a Megablast and it is a regular feature in my kitchen and pool. I bought a second one which I can effortlessly Network in with the other -either as an extension or stereo pair.
If that's not enough I can choose to use it with Alexa and Amazon Music, Pandora and Spotify (if I want to buy Premium). Or just Bluetooth from my phone - which is what I am doing at poolside as I write this.
I even bought the smaller Blast to stick in my travel bag.
I plan to network all of them when I have pool.parties.
Most importantly the sound rivals my in wall Polk system.
Get this thing. It's amazing.
Review from Donald: Portable speaker system has great volume and easily builds favorites and responds to voice or iPhone. Great for the deck or pool.
Recommended Dumb, Smart Speaker for Privacy?
Hopefully you have enough information here to select the best product for your needs. Each smart speaker has its own special traits and characteristics, but if you're still having trouble, we have your back. Ultimately, we have a tie! Depending on your needs, we recommend either the Sonos One for at home setups or the MEGABLAST for the outdoors. Sonos has been the leader in smart speakers for a reason. These speakers can do it all. If you're more of an outdoorsman, then we recommend the MEGABLAST. Together, these speakers should have you covered for every occasion.
Subscribe to Moonlight Reviews
Get the latest posts delivered right to your inbox!
Disclaimers:
The views and opinions expressed on this website are those of the authors. Any content provided by our bloggers or authors are of their opinion and are not intended to malign any religion, ethnic group, club, organization, company, individual or anyone or anything.
All product names, logos, and brands are property of their respective owners. All company, product and service names used in this website are for identification purposes only. Use of these names, logos, and brands does not imply endorsement.
It is our policy to make every effort to respect the copyrights of outside parties. If you believe that your copyright has been misused, please provide us with a message stating your position and we will endeavor to correct any misuse immediately.
Some products we try first-hand, while other products we review based on detailed research, without trying them first-hand. Of the products we try first-hand, some products we receive for free in exchange for an honest review, and other products we pay for. Given the range of products we review, research is essential to every review we share.